If your weight has gotten out of control despite exercise and diet, it can be difficult to reclaim your health without help.
If you are struggling with obesity, duodenal switch surgery in Tijuana, Mexico, can give you a new lease on life.
A duodenal switch can produce more significant results than any other weight loss surgery. Could it be right for you?
The Benefits
of Duodenal Switch Surgery
Significant Weight Loss
After a duodenal switch, patients are able to lose around 70 percent of their excess body weight within two years.
Fewer Side Effects
Because the pyloric valve in the stomach remains intact during this bariatric surgery, patients are unlikely to develop dumping syndrome or ulcers.
Proper Stomach Function
A duodenal switch procedure does not alter stomach function in any way.
What Is a Duodenal Switch?
Biliopancreatic diversion with duodenal switch (also known simply as duodenal switch or BPD-DS) is a bariatric surgery that combines a gastric sleeve procedure with a rearrangement of the small intestine to both limit the amount of food required to feel full and limit the amount of calories the body can absorb. The combination of restrictive and malabsorptive elements allows patients to experience more dramatic weight loss than gastric sleeve surgery or gastric bypass surgery alone.
During duodenal switch surgery, the surgeon will begin by converting the stomach into a gastric sleeve, removing about 70 percent of the stomach tissue and reshaping the stomach into a smaller, tube-like structure. Then, the surgeon will rearrange the small intestine so that food does not encounter bile and pancreatic digestive juices until it enters the colon, which limits the amount of calories the body absorbs from food.
BPD-DS can be completed as a traditional, open surgery, or using advanced laparoscopic methods.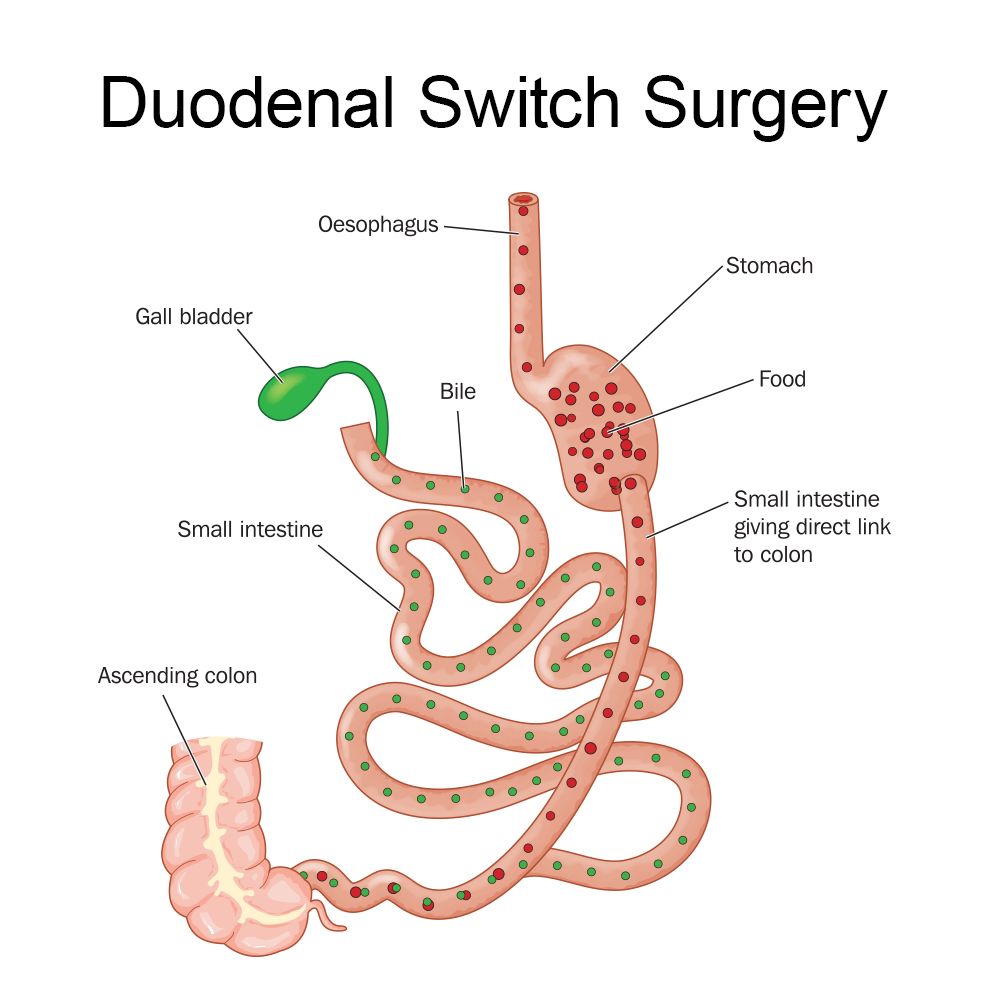 Duodenal Switch Surgery
with Tijuana Bariatrics
Tijuana Bariatrics coordinates with a network of highly trained doctors, surgeons, and other medical professionals to help patients suffering from obesity access life-changing weight loss surgery in Tijuana, Mexico. Bariatric surgery in Tijuana is a fraction of the cost of the same surgery in the United States. Tijuana Bariatrics coordinates a complete medical tourism package for every patient traveling from the U.S.
A variety of bariatric procedures exist that can help patients achieve healthy weight loss, including gastric bypass and the gastric sleeve. However, patients with extreme cases of obesity may be best served by duodenal switch surgery. For these procedures, Tijuana Bariatrics works with Dr. Fernando Garcia, a highly trained bariatric surgeon who operates out of Florence Hospital, a facility that meets all U.S. safety standards.
If you think duodenal switch surgery may be right for you, reach out today by submitting an online form or calling
(800) 308-3607
A follow-up from my original posting - post surgery has been great and I've been diligent about lifestyle changes. Almost 6 months later and I am down 92 pounds. Everyone says I look completely different and my activity level has greatly increased. I would say my only downfall has been the need to get new clothes!! I've gone from a 40/42 to 36 and some 34's! I would highly recommend Tijuana Bariatrics as an option for weight loss.

View On Google
My surgery was May 14, 2019. I had absolutely no complications. All accommodations including transportation, hotel , hospital stay was excellent!! All hospital staff was very caring and responded to any requests/ concerns immediately! I would 100% recommend Dr. Garcia to anyone considering weight loss surgery!

View On Google
"This was the best experience I could have hoped for. The hospital was clean and safe. The staff was amazing, kind, attentive, and knowledgeable. Highly recommend them to anyone considering bariatric surgery."
Heather Gibbens - 5-Star Google Review - June 2019
Step-by-Step
of Duodenal Switch Surgery
Enjoy a Near-Normal Diet
after Surgery
One of the main reasons patients opt for BPD-DS over other forms of weight loss surgery is the post-procedure diet.
The techniques used in this form of bariatric surgery do not interfere with the ability of your stomach to function.
A duodenal switch procedure allows you to eat normal, healthy portions of food without difficulty while still limiting the amount of calories you intake for dramatic weight loss.
How Does a Duodenal Switch Compare
with Other Bariatric Procedures?
Duodenal switch surgery is one of the most complex weight loss surgeries, and is usually
reserved for patients with extreme obesity
. Aspects of duodenal switch surgery are similar to either
gastric bypass surgery
or
gastric sleeve surgery
, but there are notable differences, as well.
Tijuana Bariatrics
coordinates all of these procedures in Tijuana, Mexico. Review the similarities and differences among the different procedures to help decide which could be right for you:
Similarities
BPD-DS, gastric bypass, and gastric sleeve all involve some degree of creating a smaller stomach pouch, resulting in patients requiring less food to feel full.
Gastric sleeve surgery, gastric bypass, and duodenal switch surgery all produce hormonal changes in the gut that can reduce appetite.
Gastric sleeve surgery, gastric bypass surgery, and BPD-DS all involve changes to the anatomy that cannot be reversed.
Differences
Duodenal switch surgery usually leads to greater weight loss than a gastric bypass or gastric sleeve, around 70 percent of excess weight.
Duodenal switch surgery has a higher complication rate than gastric bypass surgery or gastric sleeve surgery.