Overcome Obesity with Gastric Sleeve Plication Surgery
Being overweight can interfere with every aspect of your life. But for many, diet and exercise are not enough to help them achieve their weight loss goals.
Tijuana Bariatrics works with a network of skilled physicians who can perform gastric sleeve plication surgery. By reducing the size of your stomach without removing tissue, this procedure can jumpstart weight loss while minimizing your risk of complications.*
So why are more patients considering gastric sleeve plication?
Gastric
Plication Is a Safe Procedure
Benefit
from the Latest Surgical Techniques
An Exciting Advancement
Gastric sleeve plication surgery is a highly technical procedure which is only performed by a limited number of bariatric surgeons in the U.S. A surgeon in Tijuana Bariatrics' preferred provider network has received advanced training in this treatment.

By using an internal pleat, this advanced surgical technique can reduce the amount of food you can comfortably consume without removing healthy tissue.

So how does gastric sleeve plication work?
What
to Expect during Gastric Plication
Gastric sleeve plication is performed laparoscopically, using small tools to reduce trauma. All surgeries are performed at Florence Hospital in Tijuana, a facility which operates at the same standards as hospitals in the U.S.
Your surgeon will make five or six small incisions in the abdomen and insert a laparoscope.
Using long instruments, your surgeon will sew one or more large folds, reducing the stomach volume by about 70 percent.
The extra section of the stomach is folded, rather than removed.
The procedure takes one to two hours and requires a hospital stay of 24 to 48 hours.
After gastric sleeve plication surgery, patients typically need to stay in the hospital for two nights. Generally, it is recommended that you take at least one week off from work to rest. However, full recovery from the procedure can take about a month.*
Your diet during the healing process is particularly important. You will start out on a liquid-based diet for the first two weeks and gradually introduce more substantial foods into your diet over about two months. After four weeks, patients can typically return to light daily exercise. During the entire recovery process, you should closely follow your doctor's recommendations to prevent complications.*
See
the Results Patients Can Achieve...
*Note: There is no guarantee of specific results.
Results can vary for each individual.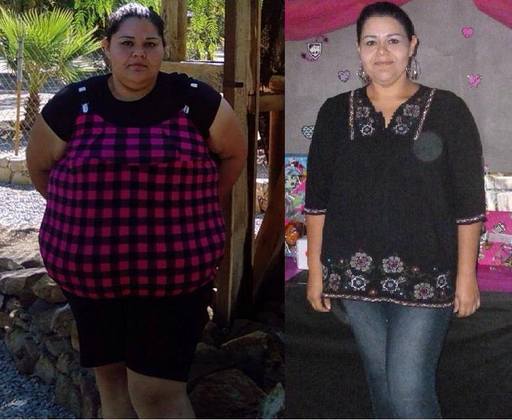 Dramatic weight loss can have a far-reaching impact on your daily life. Severe excess weight can be physically limiting and drain your energy, but after surgery, patients often find that they are more agile and able to be more active. You may also enjoy an improvement in your self-confidence that can carry over into your professional, personal, and social relationships. Overall, most patients feel that undergoing gastric sleeve plication has allowed them to have a better quality of life.*
What is
Gastric Sleeve Plication Surgery?
Recently, surgeons throughout the United States and Mexico have been calling gastric sleeve plication surgery an exciting advancement in weight loss surgery since adjustable Lap-Band® surgery. Gastric sleeve plication surgery is performed by a limited number of bariatric surgeons throughout the U.S. because of the technical nature of the procedure. Because our network of surgeons has received superior training on this procedure, they are pleased to offer this advancement in the world of bariatrics.
During gastric sleeve plication surgery at our Tijuana practice, the surgeon reduces the size of the stomach by creating an internal fold within the organ. Unlike gastric bypass surgery, gastric sleeve plication surgery does not require the resection of a portion of the stomach. Instead, it preserves the healthy tissue and its functionality by suturing the organ rather than removing a portion of it. An internal pleat will prevent your stomach from being able to hold large portions of food. This procedure is effective in helping patients lose weight quickly and it can be modified if necessary during the weight loss process.
Advantages of the Procedure
There are several advantages of gastric sleeve plication over traditional gastric sleeve surgery:
There is no removal of stomach tissue
The procedure is completely reversible and revisable
The ability of the stomach to absorb nutrients is not compromised
The risk of short time complications is lower
The procedure doesn't require staples, meaning there is no possibility for leaking, bleeding, or rejection of a foreign object at the closure site.
Treatment Disadvantages
Recovery time might be longer than the gastric sleeve
Success rate is lower than the gastric sleeve and bypass procedures
The hormone of hunger "Ghrelin" is not removed with the surgery
Determining Your Candidacy
A medical evaluation and thorough testing will need to be conducted to determine whether you are a qualified candidate for bariatric surgery of any kind. An analysis of your current health will be performed and taken into account when we configure your treatment plan at our Tijuana practice. Although weight loss surgery is safe and effective for suitable candidates, each patient will experience different results. Our goal is to identify the surgical plan that will be most effective in your individual case.
The ability of the stomach to absorb nutrients is not compromised.
Consider
Medical Tourism for Your Weight Loss Surgery
Weight loss surgery, including gastric plication, is becoming an increasingly popular bariatric procedure among patients around the globe. More and more patients are choosing to participate in medical tourism for its many benefits. By choosing an advanced surgical center in Tijuana, you can begin your weight loss journey at a beautiful destination.
Affordable Treatment Costs
In the U.S., the cost of gastric sleeve plication can cost over $10,000. For many, this an investment that far exceeds their budgetary constraints. The exact cost of your treatment can vary depending on a variety of factors, however, the significant costs savings and added value of treatment through Tijuana Bariatrics is unparalleled.
What is included in the cost of gastric sleeve plication surgery at your Tijuana practice?
I'm not sure this procedure is within my budget...