Mini Gastric Bypass: Long-Term Weight Loss* with Fewer Incisions
Obesity is a serious health issue which can put stress on your heart, raise your risk for other medical concerns, and affect your overall quality of life.
At Tijuana Bariatrics, our preferred providers can perform mini gastric bypass surgery. This laparoscopic weight loss treatment can help you shed pounds and control your appetite.*
So why should you consider this weight loss treatment in Tijuana, Mexico?
How
Does a Mini Bypass Work?
Patients
Regularly See Dramatic Results*
What
Happens during Treatment?
Gastric Bypass versus Mini Gastric Bypass
Laparoscopic Mini gastric bypass surgery is easier, safer and takes less time to perform than traditional laparoscopic Roux-en-Y gastric bypass surgery. As its name suggests, the mini procedure is a simplified, less complicated form of the traditional weight loss method. The simplified procedure is as successful as other surgical treatments in terms of its ability to help you lose weight, keep it off, and vastly improve your quality of life. The recovery time associated with mini gastric bypass surgery is about the same as the traditional gastric bypass.
While laparoscopic traditional gastric bypass surgery is a less invasive surgery than older methods, mini gastric bypass surgery is even more so. This is because mini gastric bypass requires less intestinal rerouting. This less intrusive technique results in a significantly shorter surgery. The procedure is also often recommended because of the minimized risk of infection and other side effects.*
Recovery from mini gastric bypass takes about three weeks. You can expect to return to work within about 10 to 14 days. During the recovery process, you should:
Rest for the first few days
Start walking after the first week
Closely follow your post-op diet
Avoid strenuous activities
Our team can monitor your recovery and help you achieve your goals.
Dramatic
& Lasting Results
*Note: There is no guarantee of specific results.
Results can vary for each individual.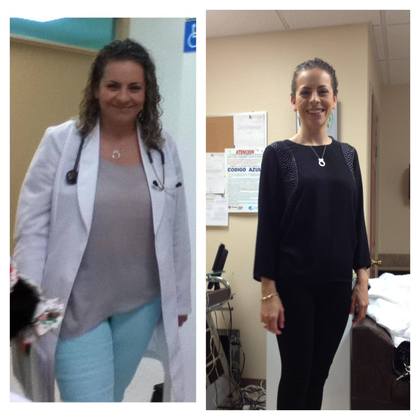 This was the best experience I could have hoped for. The hospital was clean and safe. The staff was amazing, kind, attentive, and knowledgeable. Highly recommend them to anyone considering bariatric surgery.

Patient Heather G.
Take Advantage
of Low-Cost Bariatric Surgery
Affordable & All-Inclusive Options
Although this weight-loss surgery is proven to deliver lasting results, many patients simply cannot afford the procedure. Mini gastric bypass can cost as much as $35,000 in the U.S. At Tijuana Bariatrics, coordinating with teams in Tijuana and Monterrey, we believe that patients should reap all the benefits a healthy body weight provides. We are proud to offer low-cost mini gastric bypass surgery so more patients can positively transform their lives. At $6,500, mini gastric bypass surgery with Tijuana Bariatrics costs just a fraction of what you can expect to pay in the U.S. This rate not only includes the price of your surgery and post-surgical care, but also accommodations and ground travel arrangements (not including airfare).
About Mini Gastric Bypass Surgery
This weight loss procedure requires that your stomach be divided into two pouches, an upper pouch and lower pouch. The lower portion of your small intestine is fused to the smaller upper pouch. The creation of a smaller stomach pouch, which holds less than a cup of food, will help you get fuller quicker and feel fuller longer, and you will ultimately lose weight faster. By surgically resecting the small, upper pouch to the lower portion of your bowels, food will not be completely broken down, absorbed, or processed within your system prior to exiting your body.
The revolutionary procedure is performed laparoscopically, meaning 4-5 incisions would be performed on your abdomen. The experienced and trusted bariatric surgeon Dr. Fernando Garcia utilizes only the safest, most cutting-edge technology to perform all surgical weight loss treatments.
Laparoscopic weight loss treatment that is potentially ideal for those who struggle to shed pounds and control their appetite.
Education Comes First
Dr. Garcia educates patients on the complications, however uncommon, associated with weight loss surgery as well as the risks associated with leading an unhealthy, obese lifestyle. Not only does obesity make you feel lethargic and affect your overall emotional, physical, and mental health, but it can cause irreversible damage to you your bones, joints, and muscles. Our bariatric surgery team is committed to equipping you with the tools you need to successfully lead a healthier lifestyle and achieve a more positive state of mind.
Before approving patients for surgery, the dedicated team at Tijuana Bariatrics performs a comprehensive analysis of the patients' medical history and recommends appropriate surgeries based on the goals and objectives of the patient. Patients need to be aware that mini-gastric bypass surgery at our Tijuana or Monterrey facilities will only do so much. A patient must be dedicated to avoiding harmful habits, practicing a healthy lifestyle, and eating and drinking nutritious foods that boost their weight loss results.
Your mini gastric bypass will take place in a hospital, equipped with technology that meets U.S. standards.
Advantages of the Mini Gastric Bypass
Due to the simplicity of its construction, the Mini Gastric Bypass can reduce the risk of post-surgical complications
Patients can enjoy sustained weight loss and a more active and fit lifestyle
Choosing a Bariatric Surgeon
Your surgeon can help you determine which bariatric procedure is best suited to your unique health requirements and treatment goals. You can trust the experience of Dr. Fernando Garcia who has performed thousands of bariatric surgeries. Highly regarded in his field, Dr. Garcia is also a professor of advanced laparoscopy at the University of Tijuana Medical School, where he lends his expertise to teach new practitioners the most advanced techniques.
Mini Gastric Bypass Surgery
Our Commitment to Your Safety
Over the years, Tijuana Bariatrics has coordinated countless bariatric surgeries that surpass the highest levels of safety and patient care. Your mini gastric bypass will take place in a hospital, equipped with technology that meets rigorous U.S. standards. To ensure your safety throughout your time in Tijuana or Monterrey, Mexico, our drivers will take you to and from the hospital, hotel, and airport. For your comfort, we will arrange your stay at the up-scale Marriott Hotel that specializes in accommodating the needs of our international patients. Our patients can rest assured that the locations of both the hotel and the hospital are in affluent neighborhoods known for their peacefulness and safety.