Malabsorptive vs. Restrictive Bariatric Surgeries
Malabsorptive vs. Restrictive Bariatric Surgeries
Deciding which type of bariatric surgery is right for you is a big task. But with the team at Tijuana Bariatrics, you do not have to go it alone.
The trusted network of physicians can answer your questions and help you decide whether a malabsorptive or restrictive bariatric surgery is right for you. Both methods can help you achieve dramatic, life-changing weight loss.
Here are the primary differences between the two...
Comparing
Restrictive and Malabsorptive Bariatric Procedures
It is a well-established fact that bariatric surgery is the most effective and cost-efficient means of achieving weight loss for both mild and severely obese patients... Most importantly, however, bariatric surgery and its associated weight loss results in a strong improvement of obesity-associated comorbid conditions and reduces overall mortality. Visceral Medicine
Restrictive vs. Malabsorptive
You have several options for low-cost weight loss surgery at Tijuana Bariatrics, so you should make your decision only after you gain a comprehensive understanding of what each surgery requires beforehand, what each surgery entails, and what you can expect after each procedure. The qualified team at Tijuana Bariatrics can help patients understand the benefits of malabsorptive vs. restrictive bariatric surgery so that they can decide which is best suited to meet their goals. Malabsorptive means that fewer nutrients are absorbed. Restrictive means that something is held back, or in this case, segmented from the rest. Both methods are highly effective.
Gastric Bypass Surgery
By far the most popular procedure for weight loss, gastric bypass has been performed since the late 1960s and is recognized as the gold standard for bariatric surgeries. However, gastric bypass requires significant lifestyle changes. The patient must comply with post-surgical instructions, including taking supplements, or gastric bypass can cause serious complications. Patients who are compliant generally enjoy positive, lasting results.
Both malabsorptive and restrictive surgeries are highly effective and carry unique benefits.
Gastric bypass involves segmenting off the lower section of the stomach to leave only a small pouch to process food. In addition, the lower section of the small intestine is rerouted to the new stomach pouch. While segmentation of the stomach is restrictive, because only a small portion of the stomach can process food, gastric bypass is also considered malabsorptive.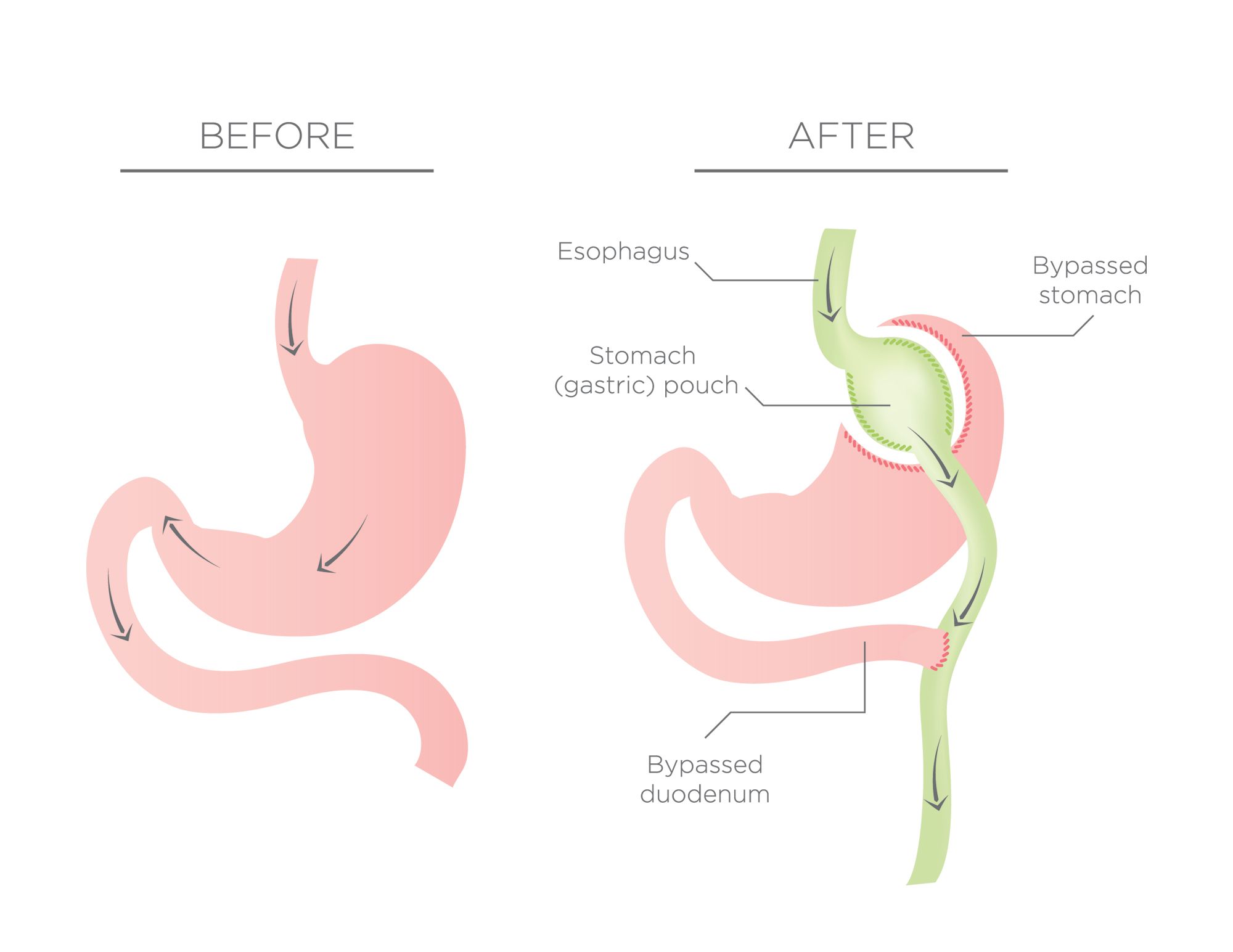 Sleeve Gastrectomy
With this restrictive procedure, as little as 15% of the stomach is left in place. The rest of the organ is removed, including the portion that produces ghrelin, known as the hunger hormone. Because the size of the stomach is dramatically reduced, sleeve gastrectomy is considered a restrictive procedure. The smaller stomach will not be able to process as much food and the patient must eat smaller meals.
LAP-BAND® Surgery
To create a small stomach pouch, gastric banding involves applying a silicone band on the stomach itself. This sections off a small part of the stomach, while leaving the rest intact but unused. Only the small section of the stomach will hold food when a gastric band is in place. However, unlike other bariatric surgeries, this is a reversible procedure.
Duodenal Switch Surgery
This procedure is usually reserved for patients with cardiac issues, hypertension, or type 2 diabetes. Duodenal switch surgery, like other bariatric surgeries, creates a smaller stomach and reroutes the bowel. However, it also involves altering the way that food is broken down by digestive juices and bile. The procedure is considered both malabsorptive and restrictive, but is more malabsorptive than other weight loss surgeries.