Achieve Long-Term Weight Loss with Gastric Bypass Surgery*
Being overweight can interfere with every aspect of your life. But for many people, diet and exercise simply do not produce results.
Tijuana Bariatrics, has a network of weight loss professionals who can offer safe, effective gastric bypass surgery for weight loss.
So why should you consider a gastric bypass procedure in Tijuana, Mexico?
Bariatric Surgery Can Result in Long-Term Success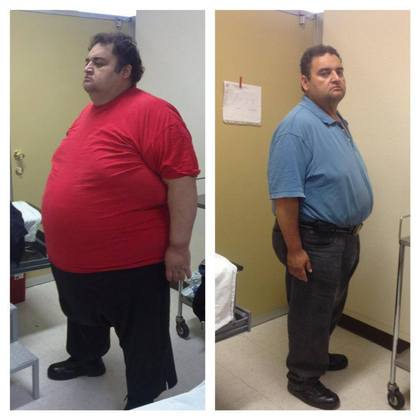 Discover What Weight Loss Surgery Can Do for You
Contact Tijuana Bariatrics Today
Join the many patients from around the world who are choosing Tijuana Bariatrics in Tijuana, Mexico, to undergo safe, effective, and low-cost weight loss surgery. Whether you are looking for gastric bypass or other options, such as a gastric sleeve or LAP-BAND®, the network of physicians at Tijuana Bariatrics offers exceptional care without the high cost.
When you work with Tijuana Bariatrics, you receive:
Free Consultations: We offer free virtual consultations right from the comfort of your home.
Affordable Care: Patients can access high-quality care from board-certified surgeons for a fraction of the cost.
Vacation-Like Amenities: Land in San Diego and be chauffeured to and from the airport, your world-class Marriott Hotel, and treatment in a modern, accredited hospital.
Medical Tourism Insurance Policy: Our commitment to patients includes a no-cost medical tourism insurance policy.
Take the first step by requesting a free consultation today. Contact Tijuana Bariatrics online or call our toll-free number:
Treatment Can Also Be Arranged in Monterrey
If you prefer, weight loss surgery can also be arranged at a hospital in Monterrey, Mexico. Contact us to learn more.
Calculate Your BMI
Use Our Easy Online Tool
Let's Dive into the Gastric Bypass Process...
Minimally Invasive Gastric Bypass Surgery
Shorter Recovery, Less Discomfort
The Tijuana Bariatrics network of physicians offer laparoscopic surgery to perform weight loss surgery through several tiny incisions, resulting in less discomfort, minimized scarring, and a shorter recovery.
Laparoscopic tools allow doctors to perform weight loss surgery through several small incisions instead of one large single incision. These laparoscopic tools include a special camera so that the doctor can clearly view the treatment area on a monitor while resizing the stomach, rerouting the intestines, and suturing the tissue.
"Fantastic experience! I'm down 21 pounds in two weeks! I've already recommended others and will continue!"

Mathew Davis
Frequently Asked Questions
Why is the stomach resized?
The resizing of your stomach and rerouting to your small intestine is designed to make you consume smaller amounts of food and digest that food more quickly. Because the food will enter a lower portion of your bowels, much of the food's nutritional and caloric elements will not be processed or broken down.
How long does recovery take?
Typically, it takes about three to five weeks to fully recover from laparoscopic gastric bypass surgery. Over the course of your recovery, there are generally several healing milestones, including:
Patients typically spend two to three days in the hospital
Incisions heal within about two weeks
Many patients return to work after about two weeks
You can typically begin more strenuous activities after about a month
However, it is important to follow your doctor's recommendations throughout the recovery period to prevent complications from your Roux-en-Y.
Is a gastric bypass safe?
For most patients, yes. Gastric bypass can produce rapid weight loss with minimal side effects, and less than two percent of patients experience complications from surgery.
It is understandable that patients may have questions about receiving surgical care at a facility outside their home country. We are happy to say that Tijuana Bariatrics has coordinated countless bariatric surgeries that have all met and exceeded standard levels of safety and care.
Your surgery will take place in a Tijuana or Monterrey hospital that meets rigorous U.S. standards and is equipped with the latest laparoscopic technology. The doctors who will perform your surgery have successfully completed thousands of bariatric procedures. Given their unparalleled experience, they can perform surgeries on patients who might not be considered good candidates elsewhere.
Why should I travel to Mexico for weight loss surgery?
When you travel to Mexico for weight loss surgery, you can get world-class care at an affordable cost.
As part of the cost of your package, we will oversee all aspects of your accommodations and on-ground travel arrangements. You will stay at the beautiful Marriott Hotel in Tijuana that is accustomed to catering to the needs of international travelers. The locations of both the hotel and the hospital are in prosperous neighborhoods that are known for their peacefulness and safety.
For your peace of mind, drivers will pick you up from the airport, drop you off at the airport, and escort you to and from the hotel and hospital.
Start Today with a Free Consultation
We Offer Phone & Virtual Consultations
World-Class Facilities
Your surgery is performed in a state-of-the-art hospital that is equipped with tools and technology that meet the same strict standards as hospitals in the United States.
Board-Certified Bariatric Surgeons
You'll receive care from board-certified doctors and a dedicated medical staff. Patients receive continuous post-operative medical care in a private hospital room.
Complimentary Medical Tourism Insurance Policy
Our commitment to patients includes a no-cost medical tourism insurance policy as well as access to nutritional counseling services.
"This was the best experience I could have hoped for. The hospital was clean and safe. The staff was amazing, kind, attentive, and knowledgeable. Highly recommend them to anyone considering bariatric surgery."

Heather Gibbens
What Kind of Results Can I Expect?
The vast majority of gastric bypass patients lose significant weight and enjoy an improvement in their health and quality of life. In fact, weight loss usually comes fairly easily in the first couple of years after gastric surgery. Beyond this time frame, patients can typically enjoy sustained weight loss if they remain committed to a healthy lifestyle and exercise.*
Weight Loss in the First Year
The gastric bypass method is designed to help you lose weight by limiting how much you can eat, while also reducing your absorption of calories. With this comprehensive weight-loss approach, most patients will experience a substantial reduction in excess body weight within the first six months of their weight loss surgery.*
Since the stomach will not be able to hold as much food at any given time, the first weeks and months after bariatric surgery consist of an adjustment period as patients learn to eat less. Certain foods may also be difficult to eat at first. Eventually, patients will be able to determine which foods and quantities work best for them.
After about a year, most patients who follow their post-surgical instructions, including their diet and exercise recommendations, can achieve their goal weight.*
​Keeping the Weight Off
During the first year or two after your bariatric surgery, diet and exercise changes often come easily.
With all the rapid weight loss, patients are often excited about staying healthy by eating right and being active.
Once weight loss goals are reached, however, it may be tempting to be less diligent about sticking with healthy diet and exercise habits.
To maintain a healthy weight, patients should continue to exercise, keep snacking to a minimum, eat small portions, and have a strong support system that encourages good habits.
Ongoing Health Benefits
The list of direct and indirect health benefits connected to significant weight loss is long and impressive. Obesity-related conditions that may be resolved after bariatric surgery include sleep apnea, hypertension, metabolic syndrome, and diabetes.
Getting healthy, of course, means that you feel better, but it can have some other great benefits too. With improved health, patients can save money on doctors' visits and medications. As patients lose substantial weight, they often are able to do things with family and friends they might not have been able to do before.
Being more active and fit can lead to a better social life, stronger interpersonal relationships, and even improved job performance. Given all the physical and social advantages gastric bypass patients enjoy, it should be no surprise that many of them also report improved mental health and self-esteem.*
Metabolic/bariatric surgery is the most effective and long-lasting treatment for severe obesity.
American Society for Metabolic and Bariatric Surgery
Has Better Health Been Just Out of Reach?
Tijuana Bariatrics Makes It Possible
Have you been struggling for years chasing the latest diet and exercise plan without results? Is the thought of what weight loss surgery can cost dampening your enthusiasm for a healthier lifestyle?
Head south and let Tijuana Bariatrics lower the barriers. Tijuana, Mexico is home to some of the most highly trained and respected bariatric surgeons in the world. With the Tijuana Bariatrics network of doctors, you can get weight loss surgery at a lower cost without sacrificing safety. In addition to the gastric bypass method, they are skilled in various weight loss techniques including gastric sleeve and LAP-BAND.
We can help you overcome the obstacles you face. Take the first step by requesting a free virtual consultation online or calling us:
"Exactly one week post surgery and I am amazed! Tijuana Bariatrics was the most incredible experience. From starting with my coordinator Martha Mejia to my last day saying goodbye to all I was in awe of this facility."

LE K
More Benefits of Gastric Bypass Surgery
Gastric bypass surgery is one of the most common forms of bariatric surgery in Tijuana and the rest of the world because of its safety, efficacy, and impressive success rate. Here are some more reasons why this surgery remains a popular choice for patients who need to lose weight:
Essential hypertension is relieved in over 70 percent of patients and medication requirements are usually reduced in the remainder
Hyperlipidemia is corrected in over 70 percent of patients
Obstructive sleep apnea is markedly improved with weight loss and bariatric surgery may be curative for sleep apnea
Snoring also improves in most patients
An 80 to 85 percent reduction in a patient's excess weight is typically achieved with this procedure
Type 2 diabetes may be reduced in some patients, usually leading to a normal blood sugar without medication, sometimes within days of surgery
Gastroesophageal reflux disease is relieved in almost all patients
Venous thromboembolic disease signs such as leg swelling are typically alleviated
Lower back pain and joint pain are typically relieved or improved in nearly all patients
Overall quality of life improves greatly
How much does gastric bypass surgery cost?
Gastric Bypass in Tijuana Is Very Affordable
At a discounted rate of $6,500, gastric bypass surgery at Tijuana Bariatrics is a very affordable way to achieve your ideal body weight and enjoy a healthier lifestyle.
This procedure can typically be quite expensive in the U.S., costing between $20,000 and $30,000, depending on where in the country you have the procedure done. Through medical tourism in Tijuana, many patients are finding that the cost of weight loss procedures can be affordable on nearly any budget, without compromising their safety or results.
Affordable bariatric surgery can also be coordinated in Monterrey, Mexico.
What to Expect during Recovery
Many people considering this type of weight loss surgery are curious about what the healing and recovery process entails. Your doctor will provide instructions for a smooth and quick recovery from the Roux-en-Y procedure, but knowing what to expect can help aid in the process.
Knowing what to expect throughout your recovery from weight loss surgery can minimize stress and promote faster healing.
Short-Term Side Effects
It is not uncommon for patients to experience short-term side effects after weight loss surgery. These should dissipate in a matter of weeks. They include:
Nausea or Vomiting: As you learn what and how much you can eat, you will be able to better prevent any stomach discomfort. Eat by taking small bites and chewing food thoroughly.
Weakness or Fatigue: When patients adjust to the bariatric diet and exercise routine, their energy should improve.
Feeling Cold: Temperature changes can be caused by changes in metabolism.
Body Aches: Aches usually pass quickly and can be managed with over-the-counter medications. Patients should check with their doctor since non-steroidal anti-inflammatory drugs, such as ibuprofen, should be avoided.
Diarrhea and Gas: Identifying and avoiding foods that trigger an upset stomach or bowel irritation can allow patients to enjoy improved digestion and comfort.
Constipation: By drinking more fluids, eating lots of fiber (or taking supplements), and staying active, patients can reduce or altogether eliminate the risk of constipation.
Dumping Syndrome: This condition is caused by the rapid emptying of your stomach after a meal. Symptoms may include dizziness, weakness, flushing, nausea, and heart palpitations shortly after eating. With the right eating habits, patients can avoid this complication.